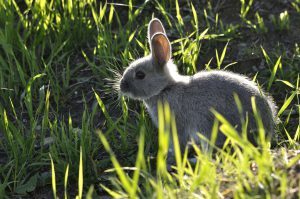 With so many rabbit repellent products on the market, it can be difficult to choose the best one for your particular application.
A Rabbit Deterrent Spray is generally regarded as one of the best options for repelling rabbits as they quickly lose interest in treated plants.
These products create an invisible barrier that prevent rabbits from having access to your gardens and yards.
They use smells and tastes that rabbits find irritable and therefore tend to stay away from.
We have compiled a list of the 5 Best Rabbit Repellent Sprays which come highly recommended from thousands of satisfied customers.
All of our suggested products are made from all-natural ingredients that are safe for use around your plants, family and pets.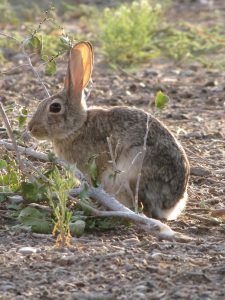 Furthermore, these products all come with full, money-back guarantees in the event you're not happy with how they perform.
A Rabbit Repellent Spray is considerably more convenient and effective than most homemade rabbit repellent recipes you'll find on the web.
The only negative to this type of rabbit repellent is that it requires you to periodically reapply it.
We advise that whenever possible, purchasing these products in concentrate form since you will save a considerable amount of money by simply mixing the product with water yourself.
Below we will provide you with our favorite rabbit spray repellent products in no particular order. In addition, we will give you a brief description of the sprays, customer experiences, and links to the full review articles.
Liquid Fence is one of the most successful, if not the most successful rabbit repellent spray products we've reviewed on this site.
It has innumerable favorable reviews with people attesting to just how well this product works.
The 2 primary ingredients in this spray responsible for repelling rabbits are putrescent eggs and garlic.
However, all of the ingredients used in this product are safe for your desirable plants, family and pets.
A single application of Liquid Fence will last up to 1 month.
People who purchased this product note that this is the most effective rabbit repellent product they've ever tried.
It has helped them finally obtain a rabbit-free property and has a very loyal following.
We can't say enough good things about this rabbit spray repellent and highly recommend you trying it out for yourself!
Click here to see our in-depth Liquid Fence Rabbit Repellent Concentrate Review
Next up on our list is this amazing rabbit repellent from Plantskydd.
This particular concentrate comes in powder form opposed to the other products on this list which are all liquids.
Simply mix this powder with water to create 2.5 gallons of usable rabbit repellent.
The main ingredient responsible for repelling rabbits in this formula is dried blood meal. Rabbits are petrified of this smell and tend to go elsewhere.
This product is designed to be used year-round and a single application can last as long as 4 to 6 months.
Overall, reviewers are thrilled with the performance of this product.
There are many loyal customers who refuse to use anything but this rabbit repellent.
We even discovered an instance of someone using it for over 10 years without a hitch.
It has proved to be a savior for many peoples' properties and we highly advise you considering it to be your primary rabbit repellent!
Click here to see our in-depth Plantskydd Rabbit Repellent Concentrate Review
Messina has been making animal deterrents for quite some time now and this one is every bit as good as the rest!
Rabbit Stopper is a very effective Rabbit Deterrent Spray and one of the best selling products in this category on Amazon.
It is completely safe for plants, humans and pets when used as directed.
A single application will last about 30 days regardless of weather conditions. This differs significantly from other products that normally require reapplication after inclement weather.
Most people note that rabbits have completely vacated their properties since integrating this product.
It has helped them obtain rabbit-free yards and allowed their gardens to grow unscathed.
This is certainly one of the best rabbit repellent sprays available and one we fully stand behind!
Click here to see our in-depth Messina Rabbit Stopper Spray Review
Bobbex has obtained a very good reputation for creating effective, animal repellent products.
Their rabbit repellent spray has proven to be one of the best products we've reviewed on this site.
It uses all-natural ingredients such as putrescent eggs, enhanced wintergreen, fish meal, garlic, and other proteins to keep rabbits away from your property.
Furthermore, this product aids in water retention to make your plants healthier and more drought resistant.
It doesn't take much research to discover that this product has plenty of positive reviews on the web.
People are quite satisfied with their purchasing decision and have noticed considerably less rabbit presence!
Overall, we think this is a fantastic rabbit repellent that you should think about using!
Click here to see our in-depth Bobbex Rabbit Repellent Concentrate (Bobbex-R) Review
Last but not least is this highly effective spray by Ortho.
This product has been around for several years now and has consistently ranked among the best in this rabbit repellent category.
Like the other products on this list, this one uses all-natural ingredients to repel rabbits such as Putrescent Whole Egg Solids, Cinnamon Oil and Clove Oil.
It is recommended that this product be applied at least monthly for best results.
The reviews for this product are very good and say a lot about just how well it performs.
It has helped countless people deal with their rabbit-related damage situation and hast kept their gardens and yards looking pristine.
We love this product and think it's one worth trying out!
Click here to see our in-depth Ortho Rabbit Repellent Concentrate Review
Bottom Line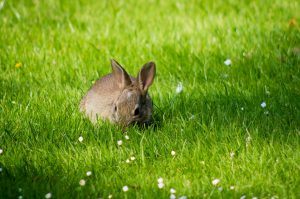 We consider the products above to be the absolute Best Rabbit Repellent Sprays available.
They all do a wonderful job at getting rid of rabbits while only using natural ingredients that are safe to be around.
Furthermore, all of these products have received outstanding reviews with full, money-back guarantees if you're not satisfied.
We consider all 5 of these sprays to be superior to virtually any of the homemade rabbit repellent recipes you'll come across.
Finally, we wish you the best of luck in ridding your property of rabbits and hope you'll come back to share your experiences with us!
Please feel free to leave comments below!