Normally you would consider sprinklers to be a great means to water your lawn; not this time.
These motion activated sprinklers are specifically designed to scare rabbits away from your gardens and yards.
They are able to detect when rabbits approach and give them a friendly spray of water to remind them that they're not wanted.
This is a very effective means of deterring rabbits and ensuring they don't get too close to your desirable plants and lawns.
In our opinion, the 2 devices below are the best rabbit sprinkler repellent products available.
Orbit Motion Sprinkler
This is hands down our favorite rabbit sprinkler.
It is equipped with a 120 degree arc motion sensor to detect when rabbits are approaching.
Once a rabbit is detected, the sprinkler will activate and spray the rabbit up to 35 feet away.
This unit has a total coverage area of 1,600 square feet with the ability to link multiple sprinklers together for increased protection.
Not only does this unit perform amazingly during the day, but it's just as effective at night with its night and day detection settings.
Additionally, its intelligent sensing technology allows for maximum water and battery conservation.
Speaking of batteries, this unit will last over 7,500 activation cycles on 4 AA batteries.
The Orbit motion sprinkler is constructed of heavy-duty materials and will last for many years!
Have a look at this video for more information on this sprinkler:

This sprinkler has received phenomenal customer feedback with over 75% of reviews being between 4 and 5 stars on Amazon.
Reviewers state the remarkable amount of success they've had in warding off rabbits with this product and how it has restored their gardens and yards.
People love how low-maintenance this product is and how it works without any effort on their behalf.
Overall, it's a fantastic product that we can't say enough good things about!
Click Here to Check Price on Amazon
Hoont Motion Activated Animal Repeller
Next up is one of the most effective rabbit sprinklers on the web.
It delivers a harmless reminder to rabbits that they've wandered into unfriendly territory.
This sprinkler has an impressive motion sensor detection range of 30 feet and detection angle of 120 degrees.
A dial on the back of the unit allows you to choose from 9 different sensitivity settings.
In addition to the sudden blast of water, rabbits are frightened by the clicking activation sound that this sprinkler makes.
Setting this unit up is a breeze, just connect the water and place it into service where you've noticed rabbit-related damage.
Furthermore, this sprinkler uses water very efficiently by having an activation cycle of only 5 seconds. It will reactivate as many times as needed to keep rabbits away.
Check out this man's experience with the Hoont Motion Activated Animal Repeller:

This unit has received a tremendous amount of praise with over 70% of its Amazon reviews being between 4 and 5 stars.
It has proven its ability to keep rabbits away while only using the necessary amount of water.
People love how effective this product is and how it has protected their gardens from these animals.
Overall, it's an amazing product and one that we certainly stand behind!
Click Here to Check Price on Amazon
Bottom Line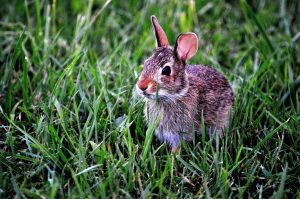 We consider the above devices to be the best rabbit sprinkler repellent products available.
Both of them have proved their ability to scare rabbits away in an effective and efficient manner.
They have received impeccable reviews from thousands of happy customers.
If we had to pick 1, we'd go with the Orbit sprinkler as it has a better coverage area and slightly better spraying distance.
Overall, you can't go wrong with either of these sprinklers as they both come highly recommended.
Please feel free to leave comments below!