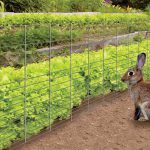 The only guaranteed way to prevent rabbits from having access to your desirable plants is by installing a rabbit fence.
Although this may take more time and effort than other rabbit deterrents, it's the most effective, long-term means to getting rid of these animals.
With so many of these fences on the market, it's hard to determine which ones work the best and will stand the test of time.
Fortunately, we have gone through the vast majority of these products to provide you with the 2 best rabbit fences for gardens.
In our opinion, Rabbit Guard Fence and Yardgard Rabbit Fence are the top 2 products available.
They are the most durable, well-constructed fences and come recommended from plenty of happy customers.
Now let's have a look at what makes these fences so great.
Rabbit Guard Fence
We consider this product to be one of the top rabbit fences on the market.
It is constructed of heavy-duty galvanized steel that will last for many years.
The openings in the wire mesh are smaller at the bottom to protect from rabbits and other small critters while larger holes at the top keep larger nuisance animals out of your garden.
Rabbit Guard Fence uses 14-gauge wire and measures 28in high by 50ft wide. This is considerably higher than most rabbit fences you'll find available.
It comes rolled up for easy storage and transportation.
Overall, the reviews for this fence are quite favorable.
People state that it has done a very effective job at keeping animals out of their garden.
They also like the convenience as they no longer have to treat their plants with sprays or use other rabbit repellents.
We think this rabbit fence does a spectacular job and is definitely a product worth considering!
Click Here to Check Price on Amazon
YardGard Rabbit Fence
This is hands down one of the best rabbit fences currently available.
Not only is it a tremendous value, but it does an outstanding job at preventing rabbits from having access to your desirable plants.
YardGard Rabbit Fence is made out of highly-durable, 16 gauge galvanized steel that will last for a very long time.
Furthermore, it has a vinyl coating for additional protection from rust and wear.
Unlike other fences that are unpainted and stand out in your landscape, this one is dark green which blends seamlessly into virtually any outdoor environment.
The mesh boxes in this fence are smaller at the bottom and wider at the top to account for different sized animals that may try to enter your garden.
This fence measures 28″ high by 50 ft wide.
It won't take much research to find that the reviews for this item are nothing short of amazing.
People note that it's the only product that has completely rabbit-proofed their gardens.
In addition to being effective, they love the way it looks.
Furthermore, reviewers state that it is extremely durable and has been in their yards for several years without signs of wear.
This is one of our favorite rabbit fences and highly recommend using it to protect your gardens!
Click Here to Check Price on Amazon
Bottom Line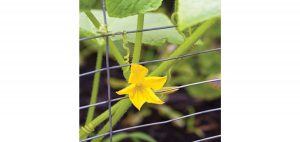 In our opinion, the products listed above are the absolute best rabbit fences for gardens.
They are one of the most convenient, maintenance-free options for permanently getting rid of rabbits.
It should be noted that fence posts must be placed into the ground to support these rabbit fences.
In addition, they should be secured to these posts with zip ties.
Overall, you can't go wrong with either of the fences listed above.
We advise anyone with a serious rabbit problem to install a rabbit fence and watch your garden flourish!
Please feel free to leave comments below!