Rabbit Scram Repellent is hands down one of the best rabbit repellent granules available!
Unlike the other natural rabbit repellent products we've reviewed on this site that are sprayable, this one is is granular in nature and therefore applied directly to the ground.
Instead of applying the repellent directly to plant leaves, these granules are scattered around the perimeter of your yard or desirable plants.
This establishes a strong barrier that rabbits will stay far away from.
One of the best things about using granules opposed to sprays is the ease of application. It's much more convenient to broadcast granules around the perimeter of your garden than it is to mix concentrates with water and spray your plants individually.
Furthermore, this product comes with a money-back guarantee in the event you're not content with how it performs.
Below we will provide you with some of the product features, Rabbit Scram reviews and where to buy Rabbit Scram.
PRODUCT FEATURES
Unlike some rabbit repellent sprays that produce smells such as rotten eggs and/or garlic, these granules are completely odorless.
This product is considered an organic rabbit repellent as it is made from all-natural ingredients. Therefore, it is safe for use around your family and pets.
Rabbit Scram works by engaging these animals' sense of smell prior to getting close to the applied area. Rabbits associate this smell with predators and imminent danger. This differs from a lot of other rabbit deterrent products out there that require the animal to taste your plants before being repelled.
One of the best features of this product is its rain resistance. It will not wash off with water and lasts up to 45 days. However, it should be noted that periods of extended sunlight with little or no rain will require more frequent applications.
Rabbit Scram comes in many different sizes but we suggest the 6lb pail as it provides one of the best values for its size. It will treat an area up to 4,560 square feet.
A convenient scoop is included for making application easier.
For more information on this product and frequently asked questions, please visit Rabbit Scram's FAQ page.
Check out this woman's experience with Rabbit Scram:

WHAT PEOPLE ARE SAYING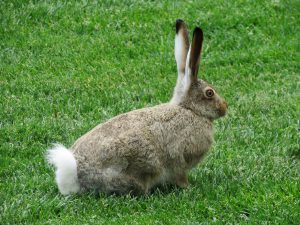 Over 60% of Rabbit Scram reviews are between 4 and 5 stars on Amazon.
Reviewers note that this product does exactly what it claims to do; get rid of rabbits.
People have stated that after applying this product to the perimeter of their garden/yard, rabbits have vanished.
In addition, purchasers say they enjoy applying a granular product opposed to a spray repellent because it's easier and less messy.
Plants have been allowed to flourish without nuisance rabbits inhibiting their growth.
Lastly, reviewers love the organic nature of this product. They like the fact that they are putting a natural product around their plants opposed to harmful chemicals.
BOTTOM LINE
We consider Rabbit Scram Repellent to be the best rabbit repellent granules on the market for their outstanding ability to keep these animals at bay!
We love the fact that that this is an organic rabbit repellent that is safe for use around your yards, families and pets.
Furthermore, we like how convenient this product is to apply and the fact that it comes with a full money-back guarantee.
Overall, we can't say enough good things about this product and think it should certainly be used in any garden with a rabbit infestation.
We wish you good luck in your effort to get rid of rabbits and hope you'll return to share your experiences with us!
See the link below for where to buy Rabbit Scram.
Click Here to Check Price on Amazon
Please feel free to leave comments below!