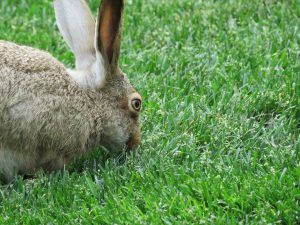 Our goal is to teach you how to get rid of rabbits using only natural rabbit deterrent products.
There is absolutely no need to treat your plants and properties with harmful chemicals that aren't safe for your family and pets.
In addition to being safer, natural products are obviously more environmentally friendly and most of the time more effective.
We have gone through the vast majority of these deterrents to provide you with the 6 best natural rabbit repellent products available.
All of these products have proven to be extremely effective in getting rid of rabbits with thousands of reviews to back them up.
Furthermore, we have only presented products that come with full money-back guarantees. We have no reason to stand behind a product that doesn't protect our readers!
This list should help you get off to a good start in dealing with your rabbit problem naturally.
Please see the link beneath each product to view our in-depth reviews. There you will learn much more about these rabbit repellents, including where to buy them.
This is without a doubt, one of the best natural products available.
It comes well recommended from thousands of satisfied customers and is consistently one of the best selling products on Amazon.
Putrescent eggs and garlic are primarily responsible for its rabbit repelling properties. Although they sound unpleasant smelling, they are virtually odorless to humans.
Once applied, it will last for approximately 1 month before requiring another application.
Reviewers state that this is the most effective product they've used to get rid of rabbits and continue to rely on it to protect their properties.
It's hard to go wrong with this product as a short search will reveal countless favorable testimonials.
We love how well Liquid Fence works and strongly advise you using it to protect your gardens and yards!
Click here to see our in-depth Liquid Fence Rabbit Repellent Concentrate Review
This unique concentrate comes in powder form instead of liquid like other sprays we've reviewed on this site.
However, it's mixed with water just like its liquid concentrate counterparts.
Once made, this rabbit repellent will do a fantastic job at convincing rabbits to go elsewhere.
Dried blood meal is the main ingredient in this formula which rabbits are petrified of.
One of the best things about this deterrent is the fact that an application can last 4 to 6 months.
This is substantially longer than the other products on this list and provides much more convenience for the user.
Reviewers have shown a great deal of appreciation for this product.
It has a very strong following with thousands of loyal customers that use it year after year.
There are even people that state they've been using it for over 10 years with great success.
When trying to get rid of rabbits, this is one of the best natural rabbit deterrents around!
Click here to see our in-depth Plantskydd Rabbit Repellent Concentrate Review
Next up is this awesome repellent made by Messina.
This company has established a strong reputation in the nuisance animal removal industry.
Therefore, we had very high expectations for Rabbit Stopper and it did a great job living up to them.
It has consistently been one of the top selling rabbit repellent sprays on Amazon because of how well it works.
Once applied, this product will last for approximately 30 days regardless of weather conditions. This is one of the only rabbit repellent sprays we know of to make this claim as most must be reapplied after wet weather.
The reviews for this product boast about its ability to scare away rabbits and keep them away.
It has helped people to finally get rid of their rabbit infestations and restored their gardens/yards.
This product should be at the top of your list when choosing a natural rabbit spray!
Click here to see our in-depth Messina Rabbit Stopper Spray Review
Bobbex is another company that has been around for a while now and has specialized in pest removal products.
This one is every bit as good and has become one of the best natural products out there.
Bobbex uses all-natural ingredients to keep rabbits away while keeping your family, pets and plants safe.
Additionally, this product has a unique feature in that it helps your desirable plants retain water. This will help them remain healthy during extended periods of drought.
As you may have guessed, Bobbex has tons of rave reviews on the internet from many satisfied customers.
Purchasers have noted little to no rabbit damage on their properties after applying this product.
Overall, this is an awesome natural spray that we fully endorse using!
Click here to see our in-depth Bobbex Rabbit Repellent Concentrate (Bobbex-R) Review
This rabbit repellent by Ortho has consistently been one of the top selling sprays.
Putrescent Whole Egg Solids, Cinnamon Oil and Clove Oil are the main ingredients responsible for scaring away rabbits.
One whiff of this stuff and rabbits usually lose all interest in your plants.
Ortho advises that this product be applied every month for best results.
Overall, the reviews for this sprayable deterrent are very good.
People love how well it works and how it has restored their gardens and yards.
This product performs wonderfully and we recommend trying it out for yourself!
Click here to see our in-depth Ortho Rabbit Repellent Concentrate Review
Last but not least is this granular rabbit repellent.
Unlike the sprayable products above, this one is distributed on the ground around the area you're looking to protect.
This method of application is much more convenient than mixing and using sprays.
It uses organic ingredients that are completely safe to be around.
Rabbit Scram has plenty of people that attest to its performance.
Reviewers note that it's one of the only effective means of getting rid of rabbits they've ever encountered.
It has a strong contingent of people that remain loyal to this product because of how it has transformed their gardens and yards.
We give this product our seal of approval and think it should be used by anyone serious about getting rid of rabbits!
Click here to see our in-depth Rabbit Scram Repellent Review
Bottom Line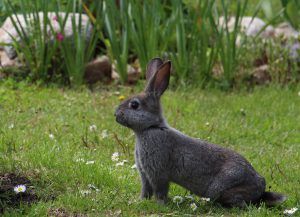 In our opinion, the 6 products listed above are the absolute best natural rabbit repellent products available!
These natural rabbit deterrent products have proven their ability to effectively keep rabbits away for good.
Furthermore, they only use natural ingredients and not harmful chemicals like some other rabbit repellents.
We love the fact that they all come with money-back guarantees in the event they don't perform to your liking.
Overall, you can't go wrong with any of the products listed above as they all will assist you in the battle against these damaging creatures!
We wish you the best of luck in tackling your rabbit-related damage issues and hope you'll return to share your stories with us!
Please feel free to leave comments below!