Plantskydd Rabbit Repellent Concentrate is one of the most effective products for getting rid of rabbits!
It has plenty of positive reviews on the web for just how well it works to eradicate rabbit damage.
This product was initially designed to protect commercial forest planting in Sweden but is now used to prevent damage from deer, rabbits, elk as well as others nuisance animals.
Although there is a separate Plantsydd product geared for rabbits and other small critters, this one seems to work much better.
Unlike the other rabbit repellent concentrates we review on this site, this one comes in powder form opposed to liquid.
We highly recommend purchasing this version instead of the pre-mixed version. You will have much more usable product for less money by mixing the powder with water yourself.
Plantskydd offers a full money-back guarantee with the purchase of this product in case you're not happy with the results.
Below we will provide you with some of the product features, Plantskydd Rabbit Repellent reviews and where to buy this product.
Product Features
This sprayable rabbit repellent is composed of all natural ingredients and is safe for use on organic crops.
In addition, it can be safely used on flowers, ornamentals, seedlings, shrubs, trees, fruit, vegetables, and other food crops.
The primary component of this formula is dried blood meal. Rabbits find this scent very unpleasant and as such, refuse to come close to plants treated with it.
This rabbit repellent has a longer application duration than most other products. It can last for up to 4 months during growing season and 6 months in the dormant season. It is also suitable for year round use.
One box of Plantskydd has 2.2lbs of powder concentrate which is enough to make 2.5 gallons of usable product. Just mix the powder with water in a spray bottle such as this. This is enough to treat about 900 plants that are 1 foot high.
For more information on this product and frequently asked questions, please visit Plantskydd's FAQ page.
Check out this Plantskydd review below:

What people are saying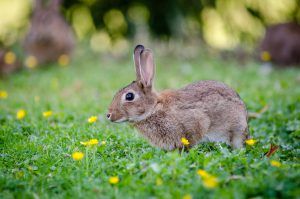 Over 70% of Plantskydd Rabbit Repellent reviews are between 4 and 5 stars on Amazon.
The reviews are overwhelmingly positive with many allegiant customers that use this product on an annual basis.
People say that it has been an extremely effective product that has kept rabbits out of their gardens and yards.
Furthermore, it hasn't product a noticeable odor and leaves no visible residue.
Reviewers also state that this has been the most effective rabbit repellent spray they've ever used and there are even cases of people using it for 10 or more years.
Overall, purchasers are very happy with their decision to try this rabbit repellent!
Bottom Line
In our opinion, Plantskydd Rabbit Repellent Concentrate gets two big thumbs up!
The tremendous amount of success that people have had with this product coupled with the money-back guarantee leaves very little risk for prospective purchasers.
We love the extended application duration which provides a great deal of convenience for users.
This is definitely one of the best rabbit repellent sprays available and one that we definitely advocate using!
See the link below for where to buy this product.
Click Here to Check Price on Amazon
Please feel free to leave comments below!