Messina Rabbit Stopper Spray is a fantastic rabbit deterrent that is sure to get rid of your rabbit problem!
This product is one of the best selling rabbit deterrent sprays on Amazon for its ability to scare away rabbits.
It has tons of happy customers that claim it does a wonderful job at getting rid of rabbits for good.
Messina has a stellar reputation for their nuisance animal deterrents and this one is certainly no different.
It comes with a full money-back guarantee if it doesn't live up to your expectations.
This particular product unfortunately doesn't come in concentrate form, therefore you will have to settle for the ready-to-use spray.
Below we will provide you with some of the product specs, Messina Rabbit Stopper reviews and where to buy this product.
Product Features
Rabbit Stopper is applied directly to the areas you want to keep rabbits away from. It can be safely applied to fruits, vegetables, shrubs, flowers, edible crops and turf areas to prevent rabbit damage.
A single application will remain effective for up to 30 days regardless of weather conditions or watering.
It contains all-natural, organic food ingredients and leaves no visible film or odor like some of its competitors.
In addition, it won't cause any staining, burning, or discoloring.
Rabbit Stopper comes in a ready-to-use spray bottle and contains 32oz of usable product. 1 gallon ready-t0-use refills are also available.
What People are Saying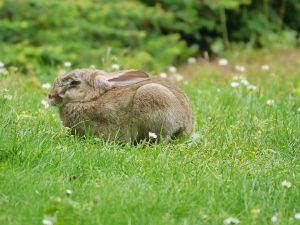 Over 70% of Messina Rabbit Stopper reviews are between 4 and 5 stars.
People state that this is one of the only products they've tried that effectively gets rid of rabbits.
After applying Rabbit Stopper, reviewers noticed that rabbits have completely vacated their properties.
Purchasers who were previously plagued by rabbit-related damage are now enjoying rabbit-free gardens.
They love how easy the product is to apply and how it begins working immediately,
People have noticed the complete absence of rabbits virtually overnight since using this product.
Overall, reviewers are extremely satisfied with the results they've experienced with this product and continue to rely on it to protect their plants from rabbits!
Bottom Line
Messina Rabbit Stopper Spray is extremely effective at getting rid of rabbits while leaving no odor like some of its competitors.
The reviews for this product are mostly positive which speaks volumes about its quality.
We love that it uses all-natural ingredients and lasts through a myriad of weather conditions.
Furthermore, we like that it comes with a 100% money-back guarantee to protect your purchase.
Overall, we think this is a worthwhile purchase if you're serious about keeping rabbits out of your yard and/or garden!
See the link below for where to buy this product.
Click Here to Check Price on Amazon
Please feel free to leave comments below!