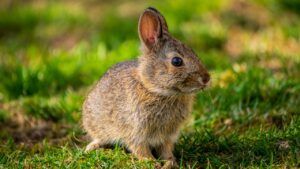 Ortho Rabbit Repellent Concentrate is a fantastic product to repel rabbits with.
It has been around for a while now and has obtained some pretty favorable feedback.
This product's unique formula is applied directly to your desirable plants and emits smells/tastes that rabbits find repulsive.
In addition to rabbits, it is also very effective at repelling deer, hence the name Deer B Gon.
Ortho provides a full money-back guarantee for this product in the event you're not satisfied with the results.
We recommend purchasing this product in concentrate form as you will save a significant amount of money by simply mixing it with water yourself.
Below we will provide you with some of the product features, Ortho Rabbit Repellent reviews and where to buy this product.
Product Features
One bottle of Ortho concentrate will treat up to 10,000 square feet of vegetation.
For best results, Ortho states that this product should be applied to plants approximately every 30 days or after inclement weather.
Unlike some sprays that leave a very noticeable odor, this product is relatively odorless.
This rabbit deterrent spray should not be applied directly to edible crops according to Ortho. However, it is safe for use around people, pets, and plants when used as directed.
One bottle of concentrate contains 32 ounces and is mixed with water in a spray bottle such as this at a ratio of 9 parts water to 1 part concentrate.
Check out the video below for more information on this product:
What People are Saying
Over 65% of Ortho Rabbit Repellent reviews are between 4 and 5 stars on Amazon.
Many people state that they've had success in ridding their properties of rabbits with use of this product.
Reviewers note that rabbit presence has decreased dramatically and their gardens are flourishing as a result.
People note that this product must be applied liberally for best results.
It should be noted that purchasers state this product isn't as odorless as Ortho claims. However, it produces a faint, yet pleasant peppermint smell.
Overall, reviewers are very satisfied with their purchase!
Bottom Line
Ortho Rabbit Repellent Concentrate has proven its ability to keep rabbits at bay!
This product has tons of happy purchasers that remain loyal to it year after year.
It does an amazing job at protecting your desirable plants and ensuring your gardens thrive.
We love that it uses all natural ingredients and is safe around your family.
Furthermore, the money-back guarantee provides peace of mind that your purchase is protected if you're unhappy with the results.
This highly effective rabbit deterrent is one of our favorites and certainly one that you should consider!
See the link below for where to buy this product.
Click Here to Check Price on Amazon
Please feel free to leave comments below!