Bobbex Rabbit Repellent Concentrate is without a doubt one of the best rabbit repellent spray products available.
This company has been making animal repellents for quite some time now and has experienced tremendous success.
Their rabbit repellent, named Bobbex-R, is no different and has received tons of rave reviews across the web.
It is one of the few rabbit repellent sprays we advocate on this site for its outstanding ability to repel rabbits.
One of the best things about this product is that it comes with a full, money-back guarantee if it doesn't live up to its claims.
Below we will provide you with some of the product features, Bobbex-R reviews and where to buy Bobbex Rabbit Repellent.
Product Features
This product is geared specifically towards smaller herbivores such as Rabbits, Squirrels, Chipmunks, Groundhogs, and Voles. However, it has also shown promising results with larger nuisance animals.
It is made from all-natural ingredients that are safe for use around humans, pets, and non-targeted wildlife.
This rabbit repellent spray can be used on a wide variety of plants but should not be applied directly to edible leaves, herbs, or vegetable skin.
It is recommended that plant bulbs be dipped in this product prior to planting. This will provide a substantial amount of insurance from underground damage.
Furthermore, Bobbex states that this formula assists in moisture retention for plants; making them stronger, healthier, and more drought resistant.
This product should be applied every month or 2 and will not wash off in inclement weather.
One 32oz bottle of concentrate is enough to produce approximately 2.5 gallons of usable product. Just mix the concentrate with water in a spray bottle such as this.
What People are Saying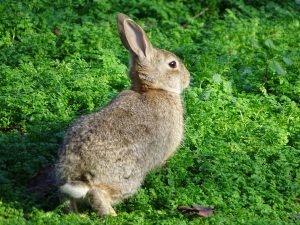 Over 65% of Bobbex-R reviews are between 4 and 5 stars on Amazon.
People have said that their plants are thriving after applying this product to them.
Their yards and gardens have shown a drastic improvement and continue to do so with repeated applications.
One of the biggest things reviewers like is the fact that this product doesn't wash off in the rain. This has made it considerably easier to use than other products that need to be reapplied after wet weather.
It's important to note that some people are not fans of the smell this product gives off. They say it's akin to rotten eggs and can be unbearable at times.
However, it has helped to keep their desirable plants in pristine shape!
Overall, there are much more positive than negative reviews so we think this is a product worth considering!
Bottom Line
Bobbex Rabbit Repellent Concentrate is a product that should be at the top of your list if you're thinking about using a rabbit repellent spray.
It has received a lot of favorable feedback for how well it works to repel rabbits.
To the best of our knowledge, this is the only product that recommends bulb application to prevent critters such as groundhogs from accessing your plants from beneath.
The money-back guarantee make this a pretty risk-free experience since you can send it back if you're not pleased.
We think it's a fantastic rabbit repellent spray that should be up for your consideration!
See the link below for where to buy Bobbex Rabbit Repellent.
Click Here to Check Price on Amazon
Please feel free to leave comments below!