Liquid Fence Rabbit Repellent Concentrate is hands down, one of the best rabbit repellent sprays money can buy!
This highly effective rabbit deterrent spray is one of the most sold repellents on Amazon for its ability to get rid of rabbits!
There are thousands of happy purchasers across the web who rely on this product to keep their gardens and yards rabbit-free.
A huge selling point of this product is that Liquid Fence provides a full money-back guarantee if it doesn't live up to its claims.
We love how well this product works and highly recommend you giving it a shot!
It should be noted that we only advocate purchasing this product in concentrate form because you get much more usable product for the money by mixing it with water yourself opposed to buying it pre-mixed.
Below we will provide you with some of the product features, Liquid Fence Rabbit Repellent reviews and where to buy this product.
PRODUCT FEATURES
This spray repels rabbits by using scents that these animals strongly dislike. Unlike some other rabbit repellent sprays that require them to taste plants first, this one operates solely on smell to keep rabbits far away.
One of the best things about this product is that it uses all natural ingredients such as putrescent eggs and garlic, thereby making it safe to be around people and pets when used as directed.
A single application of Liquid Fence will last up to 1 month and leaves no noticeable odor. It is recommended to apply this product more frequently in areas with high rabbit populations.
Liquid Fence can be used all year long and is resistant to rain.
This product contains 32 ounces of concentrate but is also available in 40oz, 1 gallon and 2.5 gallon sizes for a better value.
Liquid Fence concentrate is mixed with water in a spray bottle such as this at a ratio of 10 parts water to 1 part product.
For more information on this product and frequently asked questions, please visit Liquid Fence's FAQ page.
See the video below for this woman's firsthand experience with Liquid Fence:

WHAT PEOPLE ARE SAYING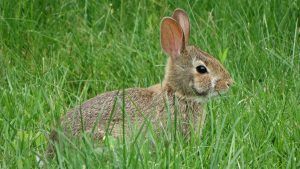 Over 75% of Liquid Fence Rabbit Repellent reviews are between 4 and 5 stars on Amazon.
This outstanding ratings speaks volumes about the performance of this rabbit repellent spray.
People have noted that rabbits have had little to no presence on their properties after application of this product.
Their lawns and gardens have been untouched by these animals and allowed to grow in peace.
Reviewers state that frequent applications are required when first using this product but can be spaced further apart over time.
People enjoy the peace of mind this product brings them and knowing that their plants are growing completely undisturbed.
Overall, this product has received overwhelmingly positive reviews with plenty of people attesting to its effectiveness and reliability!
BOTTOM LINE
We absolutely love Liquid Fence Rabbit Repellent Concentrate!
Its performance is on par with the best products out there and has shown its ability to consistently fend off rabbits.
Rabbits simply can't stand the smell of this formula and would rather go elsewhere to wreak their havoc.
Between the thousands of favorable reviews and the money-back guarantee, Liquid Fence is an absolute keeper!
We think you will be very satisfied with the results as this is one of the best products you can use to obtain a rabbit-free property!
See the link below for where to buy this product.
Click Here to Check Price on Amazon
Please feel free to leave comments below!